On the road with a campervan
On the road with a campervan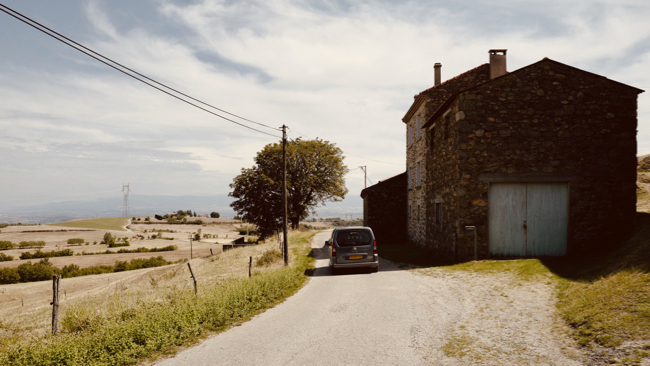 In this article, we'll take you through our decision to make a campervan from a Citroën Berlingo and a Ququq camping box.
Why?
We love to roam when we are on vacation. It is nice to keep discovering new places whether we go far away or stay in Europe. Previously we had a 1971 Volkswagen bus, which we regularly took on the road. We had a lot of fun with that, but such an old car needs a lot of maintenance and we are not that handy ourselves.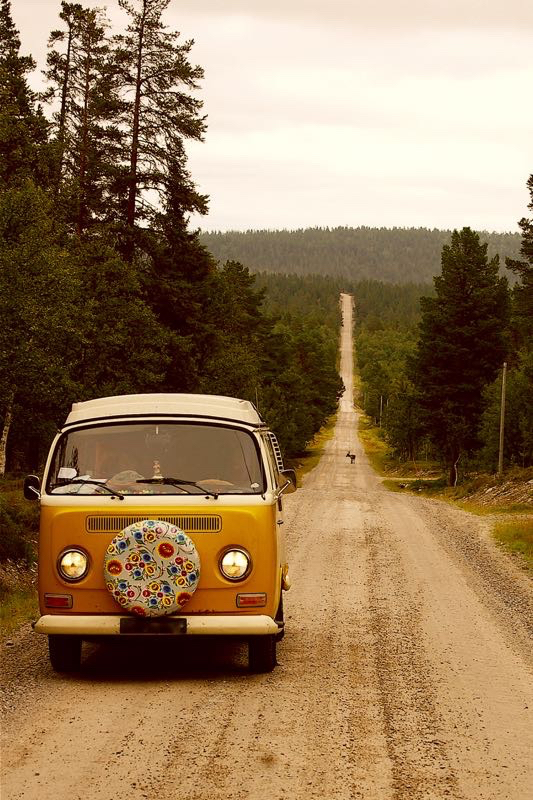 After a number of years it was still itching to buy a bus, so that you can always unexpectedly take a trip and take the dog with you. However, these buses remain quite expensive and almost all have diesel engines. We ourselves had a diesel car, which we actually wanted to get rid of because you are no longer allowed to enter all cities.
Where?
A handy alternative is a petrol van with a camping box. At the annual CamperExpo in Houten in The Netherlands you can view different types of camping boxes that fit into many different types of vans.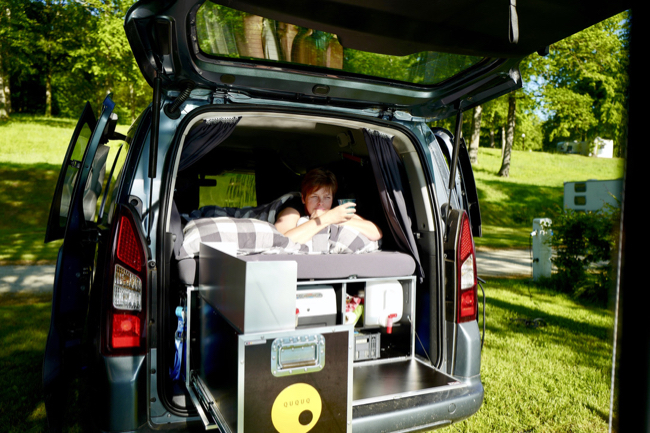 Who?
Our expensive diesel car was exchanged for a Citroën Berlingo and we made an appointment with Edzo from 3DotZero in Soest for the installation https://www.3dotzero.nl/macbox/. We decided to purchase a Ququq camping box. This box looks solid, so that our studying children can also borrow the campervan. The handles make it easy to lift the camping box out of the car (75 kg), so that the car can easily be converted to empty a student residence or to transport something large. It also includes a 2-burner gas stove with windshield, 2 jerry cans, 2 stainless steel sinks and space for a refrigerator.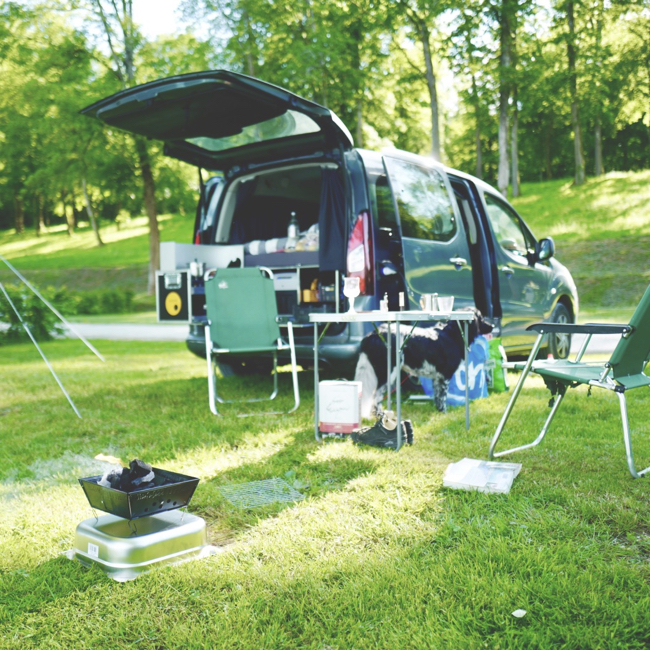 Edzo's company can also adjust all kinds of things to the car itself. We wanted curtains, an input box on the outside for a CCE plug, a 12 Volt input in the back of the car for the refrigerator and a set of window ventilation grilles.
The Ququq camping box has a fixed bed, which you can fold open when you want to go to sleep. For that you have to slide the front seats forward. Then you hook the ends of the bed on 2 loops that you hang from the belt.
You can take the back seat out of the car when you go on vacation, so that you can store your luggage and the dog there. If you're on a short trip, you can also fold the back seat.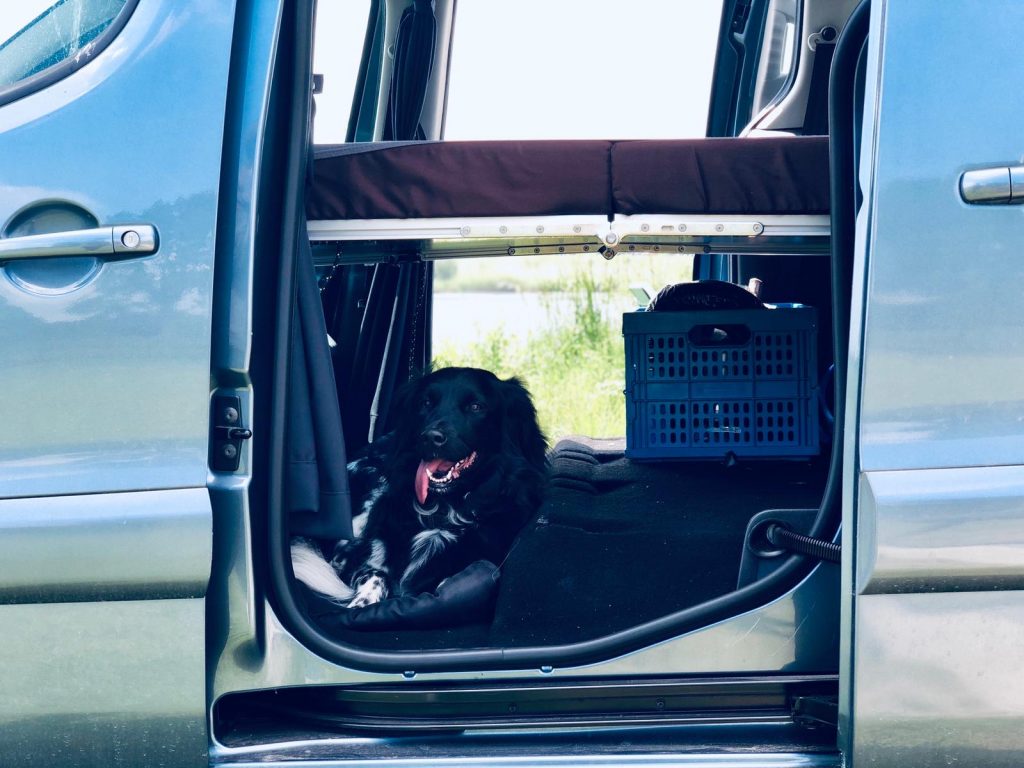 If it starts to rain, you can use an awning or a tent. After some searching we wanted to buy the Vaude bus tent. We wanted to use the tent as little as possible. Only as an emergency solution in rainy weather. It is much more fun to raise the tailgate in the morning and wake up with a view of nature.
After trying out the tent on a day camping, we went out for the first time with our campervan on Ascension 2019. We had chosen a small-scale campsite in the Champagne region in France. https://nl.flowercampings.com/campings-champagne-ardenne/camping-domaine-du-buisson. We stood in a spacious spot on a stream, where you could enjoy the activities of the coypu every morning.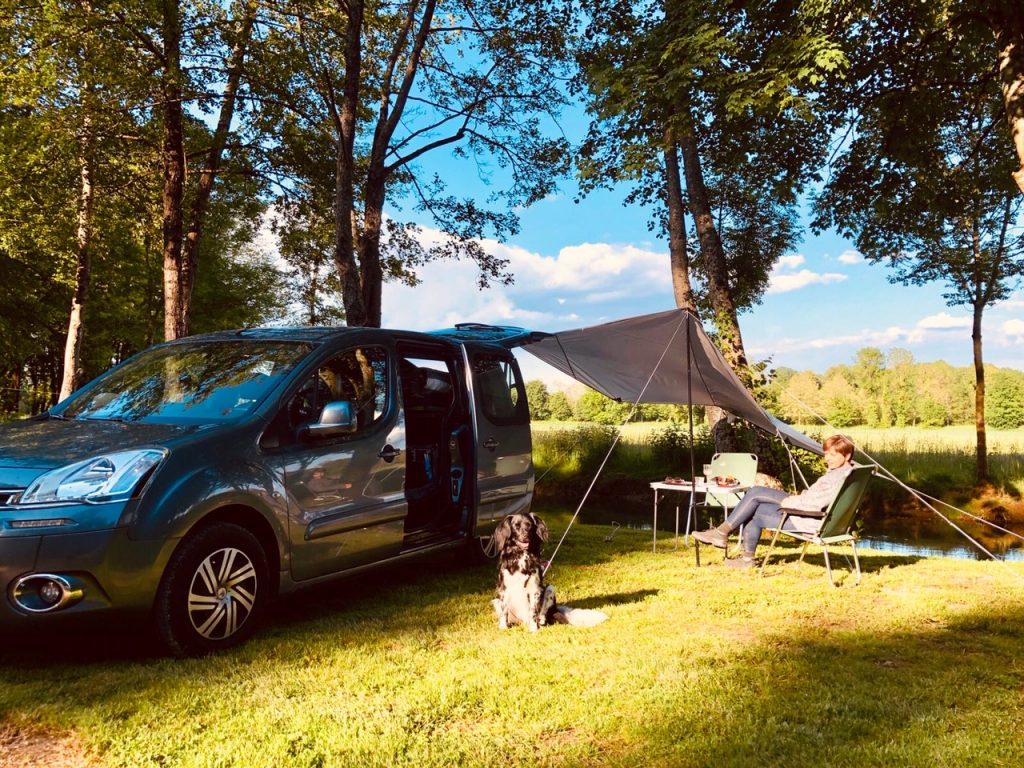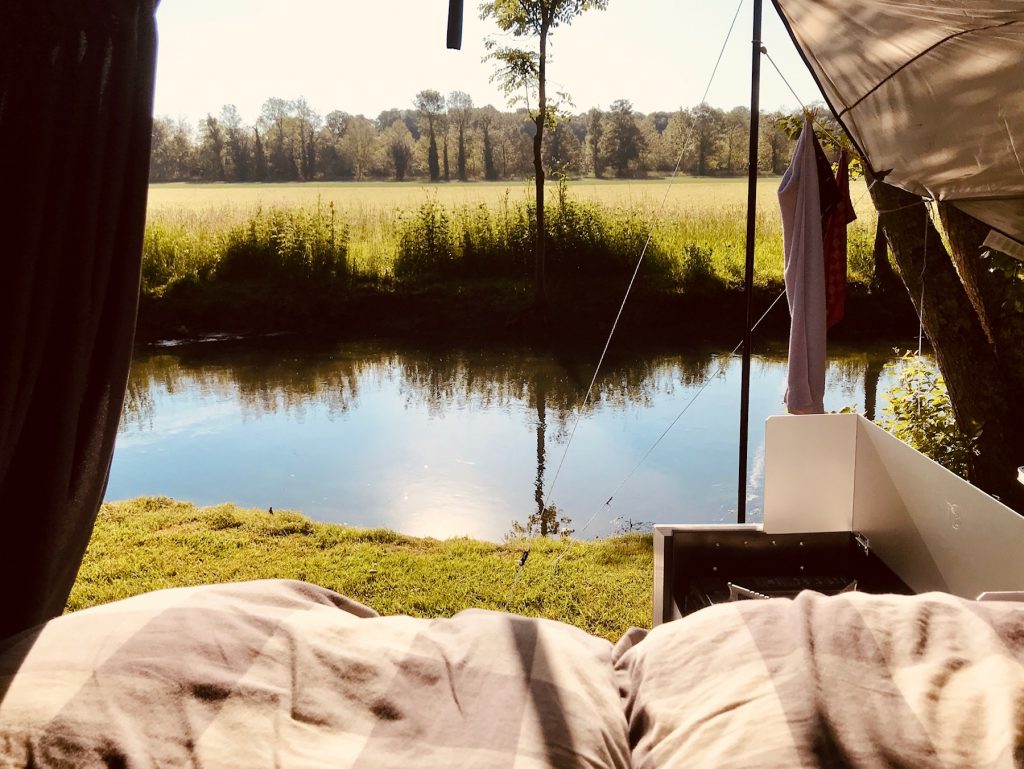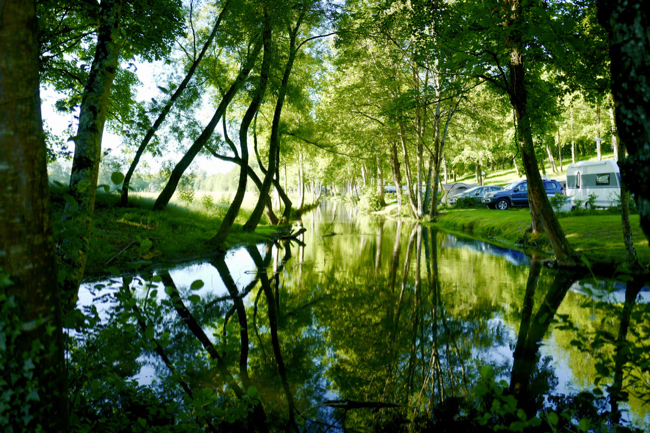 We have now been on the road a number of times with the campervan. Gradually you discover how you can best set up the camper to your own wishes and you come up with a number of skills for even better comfort. For example, we missed a place to put our phone and glasses while sleeping. We now use a clothes hanger with a bag on it.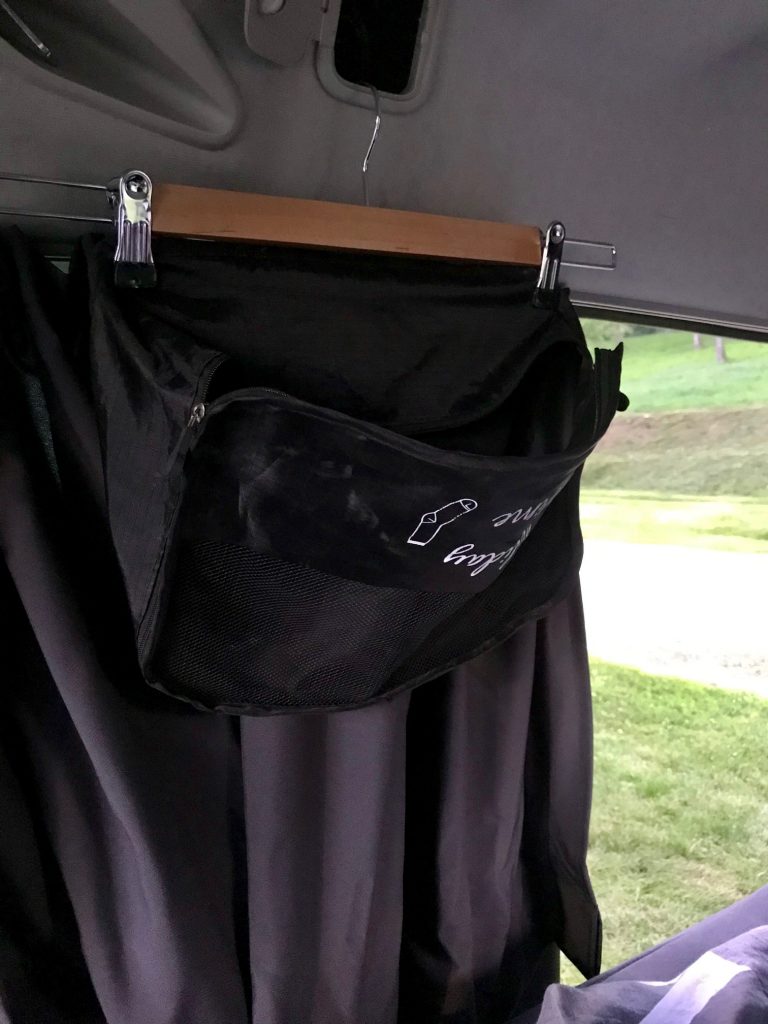 Let's list the pros and cons:
Benefits:
The camping box simply fits in your car, so you don't have to buy a separate camper. This saves purchase costs and / or storage costs.
The campervan is small, so you can park anywhere and drive through narrow streets.
If you buy a petrol campervan, you can enter all cities.
The camping box is easy to convert into a bed.
You have the stove, refrigerator and water at hand in an instant. For example, you can also cook or make coffee / tea on the go.
You can easily remove the camping box from the car, making it easy to use to transport or move something large.
You have a claim quickly, because many people are curious how it works.
You are really outdoors, if you like that.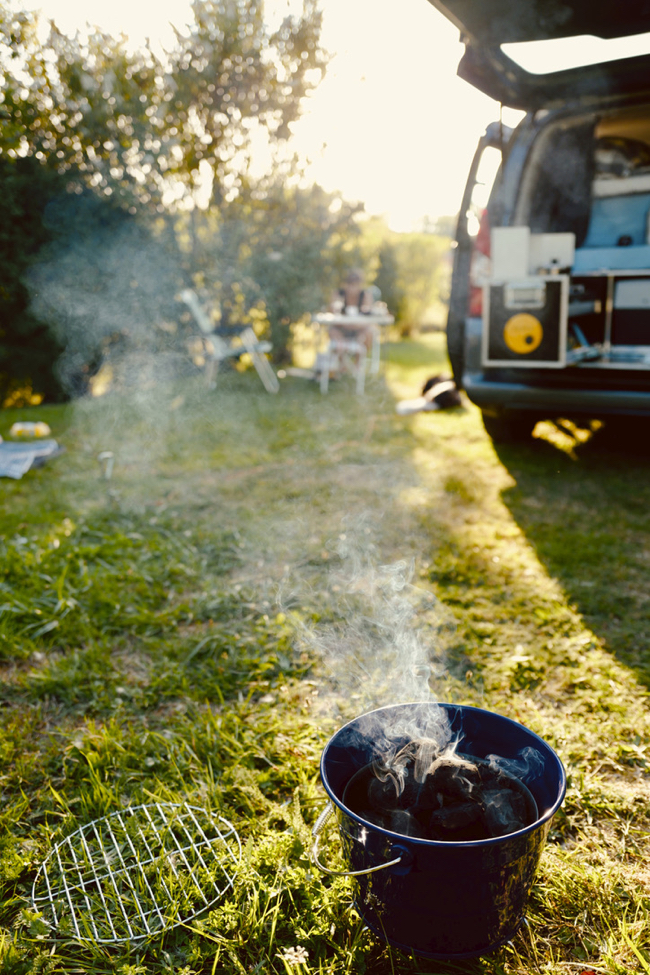 Cons:
You do not have your own sanitary facilities
When it rains you can hardly sit inside. You then need a tent or awning.
You must be able to handle small spaces.